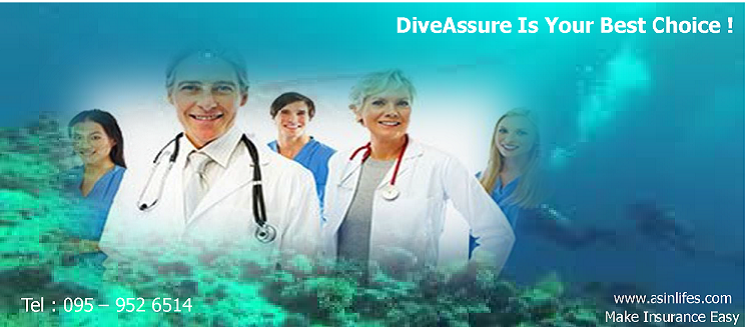 DiveAssure members are eligible for the most comprehensive Diving Accident and Dive Travel insurance plans.

We provide 24/7 medical hotlines and supervision of diving emergencies operated by specialists
at Duke Dive Medicine at Duke University.

We specialize exclusively in diving. Our expertise makes a difference.

We pay directly to service providers. You don't have to leave a deposit or other guarantees.
Dive & Travel and Dive & Travel Plus
DiveAssure offers 2 dive and travel plans that provide comprehensive general travel and diving accident insurance. In addition, both plan include
many benifitsspecifc to diving such as coverage for lost diving day and trip cancellation due to inclement weather. The Dive&Trevel Plus also offers comprehensive coverage designed spacially for liveaboard trips.This plan,as opposed to a general travel insurance program, will cover your trip
expenses if your missed the departure of your liveaboard because your fligth was delayed, or if you have to cancel your trip as you are medically
unable to dive, yet in good health ortherwise.
Please view he table below and see for yourself hoe comprehensive the two plans are.
Coverage

Dive & Travel ($)

Dive & Travel Plus ($)

Emergency Medical Evacuation - Worldwide

250,000

500,000

Medical Treatment

250,000

Unlimited

Lost Diving Equipment

2,500

5,000

Lost Baggage

1,500

2,500

Baggage / Diving Gear Delay

100/700

100/1,500

Repatriation of Remains

10,000

25,000

Emergency Evacuation or Non-Medical Reasons
Cancellation and Curtailment due to Accidental injury / death
of qualified persons. Medical Inability to dive
1,000

7,500/3,500
1,500

10,000/5,000

Hurricane / Typhoon ( and much more)

Covered

Covered

Travel Delay

500

1,000

Missed Departure / Connections

500

1,000

Missing Liveaboard boat departure

-

10,000

Lost diving days due to the Mechanical
Breakdown Liveaboard boat,Failure of air
supply,Injury to any passenger on
Liveaboard boat

-

250/1,000

Lost Diving Days due to Medical Inability to Dive

100/500

250/1,000

Lost Diving Days due to weather Conditions

150/450

100/1,000

Have a medical question concerning diving? We have answers for you. DiveAssure members, partners
and dive-leaders can call the DiveAssure – Duke Medical Hotline with any question on diving safety
and other non-emergency medical diving issues.
Please Note: Questions will be answered by the physicians at the Duke Center for Hyperbaric Medicine and Environmental
Physiology at Duke University. The non-emergency medical hotline operates during business hours
(Monday-Friday, 8:00am-4:30pm EST).
Please call +1-919-684-6726 and present yourself as a DiveAssure member. You will be connected
with a Duke hyperbaric specialist.